When you think of love, your heart may be the first thing that comes to mind.
We associate love with our emotions. Speaking those three words, I love you, is an affirmation of one's feelings for someone. It says you care. It may convey your undying love for a spouse, parent, or child.
Pastor and Author, David Willis, writes,
Love is an unconditional commitment to selflessly serve, truthfully communicate, fearlessly protect, gracefully forgive, compassionately heal, and enduringly remain in relationship with and for the sake of another." — The 7 Laws of Love: Principles for Building Stronger Relationships
In other words, actions speak louder than words.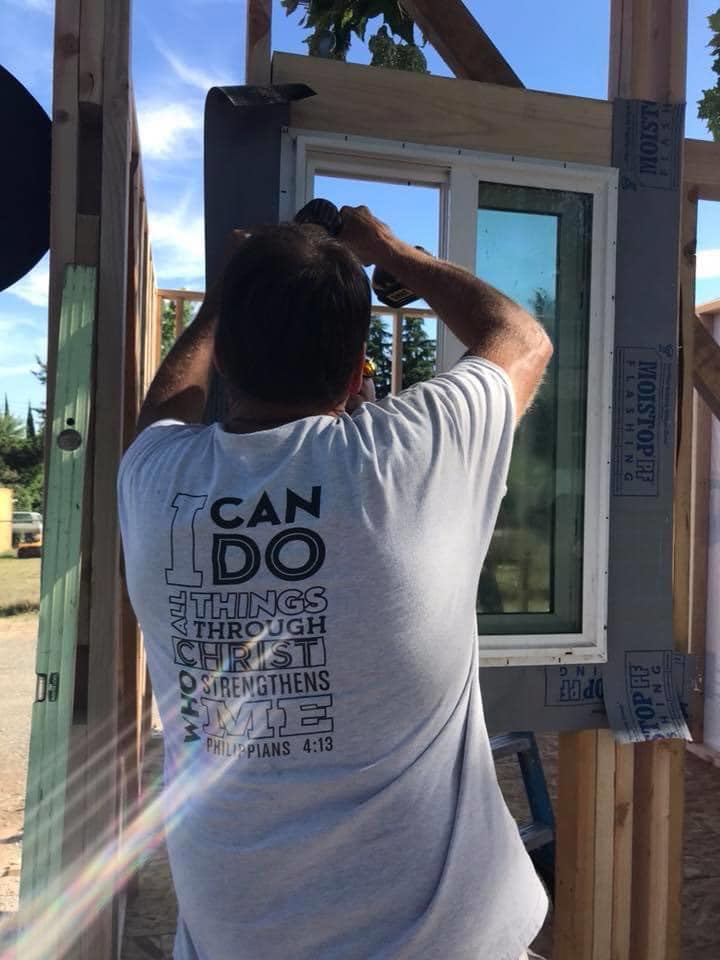 The light of Jesus filtering through Mikey's work as he builds, in love, for his parents.
My husband has a servant's heart. The gift of service permeates his soul. While he is often available to help others, he recognizes family is his first ministry. Mikey builds things. His love shines through his selfless devotion to providing for and protecting his family. After twenty-five years of running a successful construction business, he made the choice to no longer serve money, but to serve the Lord through his work.
Due to growing health concerns, his parents agreed it was time to sell their home and move onto our property. Within a few months, the 2018 Camp Fire disintegrated their serene town of Magalia which borders Paradise, California. By the grace of God, my in-laws' lives were spared.
Take notice of this photo of my husband. His favorite Bible scripture is printed on the back of all his company t-shirts, "I can do all things through Christ who strengthens me." (Philippians 4:13)" The rays of light shining through Christ strengthens me reveals his complete love for Christ. It is his hope for Jesus to filter through him and his work. Our home is blessed. Mikey's work and all he puts his hands to is blessed.
This is the way it works. Love builds. Love does no harm. It does not tear someone down or dehumanize them. Our devotion to the Lord will and does show if we live our life loving the Lord with all our heart and loving others as ourselves.
In my work as a writer and speaker, I often share about injustice, trauma, and abuse I have endured. Us writers must remember to do no harm and to let only love draw us to the page. This is impossible if we write from a place of unforgiveness, malice, bitterness, or fear. While writing about painful memories may be hard, it is the place we write from that matters most.
It is most important for me to feel God's presence as I pour the words out, so I always pray before writing. Immersing ourselves in Scripture and prayer floods our soul with God's love.
When our heart is hidden in His, it is filled to overflowing. We cannot help but to put His love to action.
May the glory of the Lord shine through all we put our hands to.
Believe. Belong. Be loved.