"If you want a joy-filled, encouraging speaker or emcee, consider Cherie Denna. At a recent women's retreat, she emceed the event at the Mission Springs Camp & Conference Center in northern California, where she warmly greeted all the women and even light-heartedly navigated the evening session when the power went out. Cherie is unpretentious yet professional. I highly recommend her!"
— Janet McHenry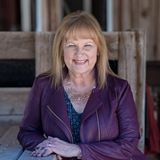 Janet McHenry, award-winning speaker, best-selling author of 24 books including Prayerwalk, and AWSA Certified Coach (Advanced Writers and Speakers Association)
Inspired by His Truth
Cherie's Personal Testimony
We all have a story worth telling. In this session, Cherie shares her story of rescue from the violent outlaw biker culture and organized crime family and how God met her on the road to recovery.

Compassion: The Unexpected Road to Forgiveness
Forgiving the unforgivable seems almost too much to ask someone who has endured a heinous crime or ultimate betrayal. This session reveals the spiritual aspect of forgiveness along the unexpected road of compassion.

Seven Steps to Belonging
We tend to sacrifice pieces of ourselves at the altar of belonging to the wrong group, club, or community. Discover in seven steps how God will take you to a place you've never been but where you've always belonged.

Footsteps Worth Following
Walking away from everything and everyone we know takes tremendous courage. Sometimes, it is not only necessary, but critical for our survival. Jesus demonstrated this when he left His own family to begin His ministry. We'll discuss one of the most difficult choices we can make as followers of Christ.
When God Calls You to Write
Your 12-Step Survival Guide – In this session, we will dive into this survival guide for those who have a testimony to share or story to tell. We'll discuss the difference between the two and break down the reasons God may call you to write, even if you are not a writer. This guide will equip you to survive the assignment He has called you to.

Living as a Lady of Devotion
Mary Magdalene is said to be the most devoted of all the disciples. Why do you think that is? In this session, we'll explore the idea of living a life of devotion in our relationship with the Lord and reflect on our own allegiance.

A Just God in an Unjust World
This world is overrun with lawlessness and injustice, yet the justice system of the world continues to fail us. You'll hear testimony of God's righteous judgment, learn how to look for His justice in your own life, and to trust God's sovereignty in an unjust world.

The A.R.T. of Fighting Negative Thoughts and Emotions
This session is based on the Apostle Paul's admonishment to "…take captive every thought to make it obedient to Christ" (2 Corinthians 10:5). We will break down the A.R.T. acronym as we learn a practical method to tend to our mental and spiritual health.
Sharing Her Story
If you don't see a topic here that works for your event, complete the submission form and we will work on this together. I can also tailor a topic to meet the needs of your group.
I would love to speak for your group, podcast audience, or scheduled event. If you're interested in learning more, please complete the form below and we will reach out to you within 48 business hours.