We've been waiting a long time, you and I—and at last, it's here: the COVER of my debut book, Beloved Outcast: The Quest for True Belonging.
For years, my working title for this book was Biker Blood. But the thing is—my story is intended to reach far beyond the world of bikers. The title, Beloved Outcast, captures the core essence of the ministry of Jesus Christ—welcoming the outcast, rejected, and marginalized as God's beloved children.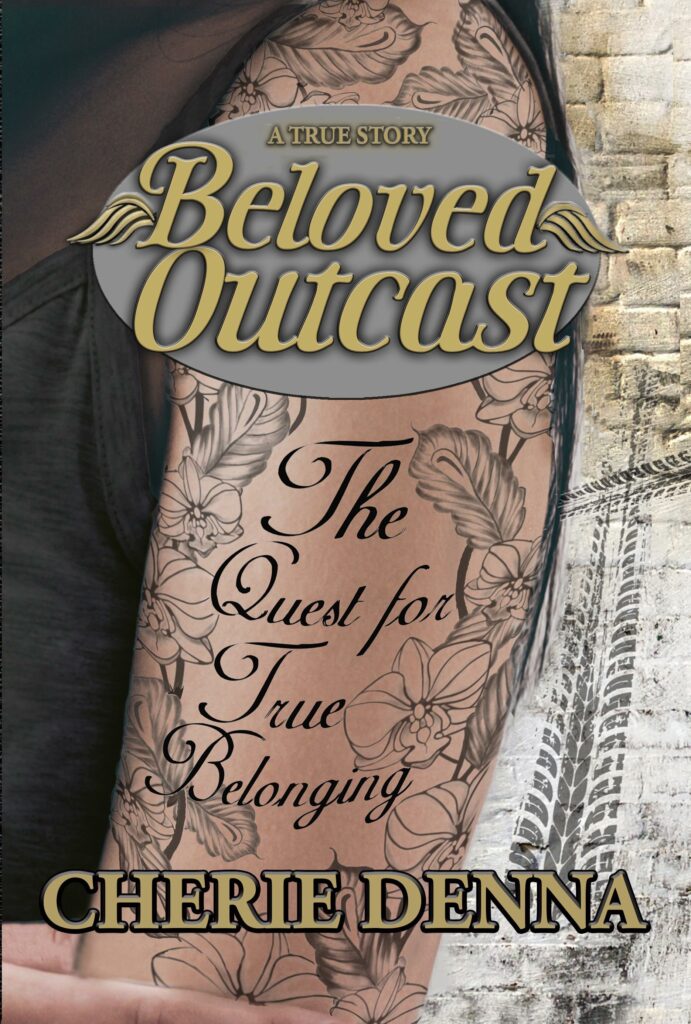 My gifted award-winning cover designer, Amber Wiegand-Buckley, outdid herself, don't you think? Barefacedcreativemedia.com
This is what early readers are saying about Beloved Outcast: "a mesmerizing tale of truth and conviction" … "for those who feel outcast or unworthy" … "it will impact your heart forever" … "brutal honesty and raw vulnerability" … "a captivating read"
I'm grateful, delighted . . . and so excited for you to read it.
Beloved Outcast releases in early 2024, so be sure to subscribe to my newsletter to join me on this journey, including upcoming media interviews and updates on my book launch.
Here's the description…
BELOVED OUTCAST: THE QUEST FOR TRUE BELONGING
Ever feel you don't belong in the life you're living?
Cherie Denna gets it. Born into a Sicilian mob family and notorious outlaw biker clubs, Cherie grew up learning the harsh realities of living on the fringes of society. Crime, trauma, injustice, treachery, followed by abandonment, fear, and battles with Complex PTSD, led her to lose everything. Until she found a sense of belonging, discovering her true bloodline and a complete rebranding of her soul.
With candor and courage, you'll be encouraged to understand with Cherie:
How to truly fulfill the longing for belonging.
How to break free from generational dysfunction.
How God uses the seemingly unforgivable to demonstrate His mercy.
How devotion to the Lord dramatically changes life's trajectory.
Beloved Outcast takes us on a journey from the thunderous roar of the biker clubs to the whisper embrace of Christ.
Things are getting real now. Stay tuned!